Where news is the coolest thing in town.
Letter From the Editor

Dear Readers,

This is our last Issue of the Gateway Gazette for this year! We are sad for it to end, but excited for what's to come. Ryan and Jonah are making a slideshow with all of our favorite moments from Gateway sports. Grace is making a thank you page for all of the teachers that are moving on over the summer. We especially want to highlight, Sherri Helvie, who is moving to Indianapolis. I am writing a congratulations letter to Hannah Wikse, who is advancing from teaching kindergarten to becoming our new Assistant Head of School. Sofía has a question of the week directed specifically towards our amazing eighth graders who are graduating. Sydney interviewed Bill Bryant for the T

eacher Feature. Sadly, he will also be leaving this year. And lastly, Lulu has an article for you in the Education tab with updates about our new campus.

Thank you for your incredible support this year as we rolled out the Gateway Gazette. We hope you enjoyed reading our school paper.

Sincerely,

Nate Smith

6th and 7th grade Gazette Staff

Congratulations to Hannah Wikse!

Congratulations, Hanna Wikse, on your promotion to Assistant Head of School! We are all so proud of you! We know you will be amazing and you have all of our love and support.


​From, The Gazette Staff ♡

Question of the Week
By Sofía Kvaternik

What is your favorite memory from
Gateway?

Hello Readers!

I'm afraid to say that this is our last edition of the Gateway Gazette for Volume 1. It has been so much fun putting out amazing content for you to enjoy. This article is about our wonderful 8th graders who are graduating this year. I asked several 8th graders about their favorite Gateway memory.

Camila: My

art elective in 6th grade. We got to listen to music, make art and hang out with Ilana. It was a lot of fun!

Carolina:

Going to Washington D.C.

Olivia:

Reading Fahrenheit 451 in Humanities.

Sarah:

My most memorable memory was when I first shadowed here in Kaia's first grade class.

George:

My most memorable memory is performing at the spring concert.

​

Griffin:

Getting finessed in volleyball.

Owen: The Washington

D.C. trip for sure.

Thank you for reading the final Question of the Week. We will miss all of our amazing 8th graders but we will always remember what they loved the most about our school.



Teacher Feature
by Lily Brooks & Sydney Barnes
Hello! Our names are, Sydney and Lily, and we are the Teacher Feature reporters. Today we had the chance to interview, Bill Bryant. H
e had some really great answers that we think you will all enjoy. We hope you like this edition of the Teacher Feature!
Lily and Sydney: Who or what inspired you to become a teacher?
Bill: Well, I'm not sure there was a particular person or teacher that made me want to go into teaching, but I think my goal was to help children and I thought teaching was a good way to achieve that. I haven't regretted it; teaching has been a rewarding career and I have enjoyed working here at Gateway School very much. I chose the UC Santa Cruz teacher education program because it was (and is) considered one of the best in our state. I started teaching in public schools, but really appreciate the small class size we have here at Gateway. I think it makes a difference compared to trying to learn in larger classes.
​
Lily Sydney: If you won the lottery and you stopped teaching what would you do instead?
Bill: Hmmm… well, that is quite choice! I suppose I would go back to school. I value learning new things and would like to do more in several areas. I was a history major during my time at university and enjoyed that very much; I loved spending hours in the library doing research on various topics. Having to major in one subject, however, was a hard choice. I'd also like to learn more about geology and earth science, physics, French, linguistics, and archaeology, for example. I think I would also want to earn a private pilot's license and do some traveling by small airplane with my wife, Lois.
Lily and Sydney: What is one of your hidden talents?
Bill: I am a pretty fair machinist and metal worker. When I retire I will be spending a lot of time in my workshop. One of my first projects is to overhaul my lathe and milling machine and some other equipment I've worn out over the years. They are older than I am and have seen a lot of use over the years; they need to be refurbished so that they will be good for another few decades. When done, I assume they will outlast me by a long time.
Lily and Sydney: What do you consider your greatest achievement?
Bill: Helping young people learn and grow.
Lily and Sydney: What is your greatest fear?
Bill: I don't know that I have many personal fears… but age does give you some perspective, I guess. I am old enough to recall much of the turmoil of the 1960s and how that wasn't such a great time for our nation, but I also know things definitely got better in the following decades and it shows how things can improve. However, in recent years I have become quite alarmed by the rise of the conservative mindset and how our nation could elect someone so terribly flawed like our current president. That is a real concern and I worry about the fate of our democracy if this type of nonsense continues.
Lily and Sydney: If you could change one thing about yourself what would it be?
Bill: To not like chocolate as much as I do.
Lily and Sydney: What is your all time motto if you have one?
Bill: "A smooth sea never made a skillful mariner."
Lily and Sydney: What would most students be surprised to learn about you?
Bill: That I have bicycled from California to the East Coast three different times. The ride is about 3,000 miles. Who knows, perhaps in retirement I'll do it a fourth time?

Thank you, Bill, for letting us learn more about you! Enjoy your retirement!
Powered by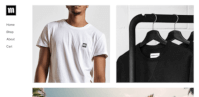 Create your own unique website with customizable templates.